During 2021, Lumiker has been awarded, in collaboration with the Basque Energy Cluster, and VELTIUM SMARTCHARGERS, an IBG project (Innovative Business Groups) for the development of innovative solutions for recharging electric vehicles with optical current measurement systems.
This proposal aims to design a current measurement system with an integrated optical circuit, which is passive, ATEX, EMC, and highly accurate, for the energy and safety control of fast and ultra-fast charging points for electric vehicles. To do this, 4.0 technologies and advanced functionalities for the provision of value-added services to users and cost efficiency have been incorporated,.
OPTICHARGER will
control multiple network stations several km from each other holistically.
Detect failures in real time, deterioration of power cables and possible security risks in the recharging process.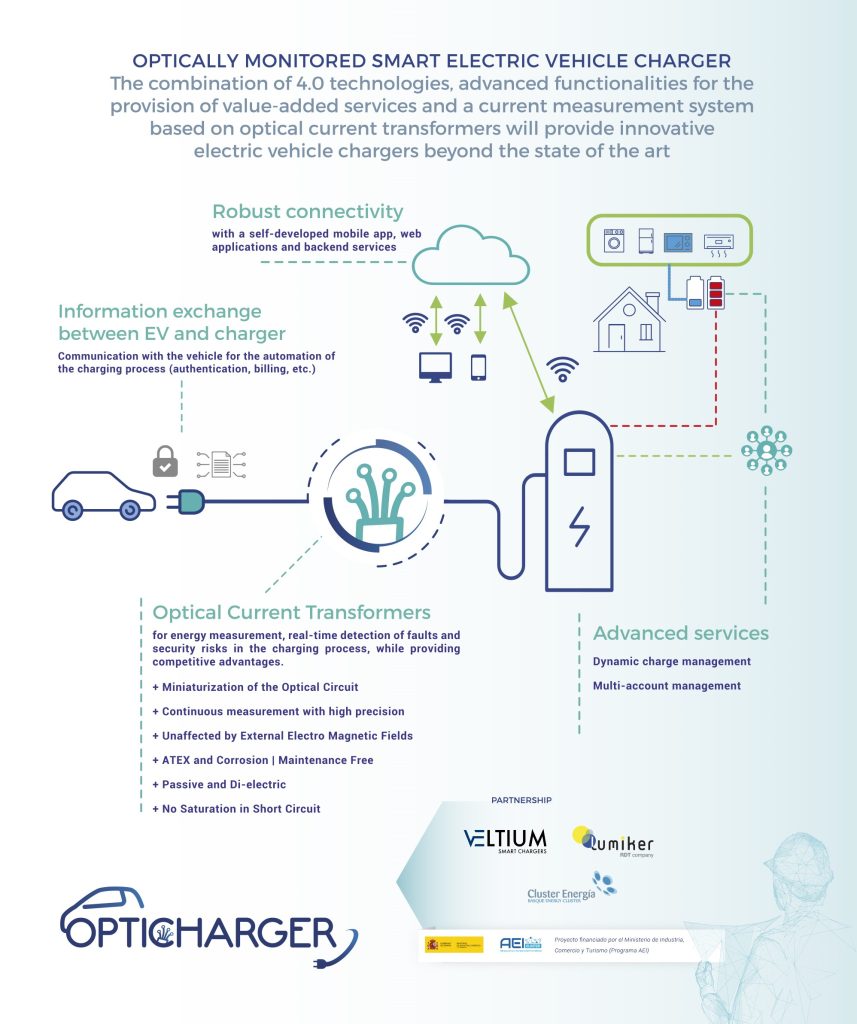 The most ambitious innovations that the project proposes with respect to the technological offer available in the market are highlighted below:
Design and implementation of the communication between the charger and the EV for its application to new charging solutions, including the HW implementation of the communication with the EV and the development of the corresponding firmware that allows the provision of advanced services.
The use of fiber optic technologies for current measurement. Compact size and low cost optical current sensors offer important advantages such as:

Measurement continuously and in real time with high precision, compatibility with electromagnetic fields.

Resistance to chemical attack or corrosion.
Maintenance reduction.
Decrease in consumption as they are passive elements, ability to work in ATEX environments.
Advanced charging services that allow intelligent energy management. Implementation of functionalities related to the multi-user management of devices, their shared use, or solutions for the dynamic management of charging power in single or multi-device installations in which different consumption references or renewable generations can be integrated to optimize vehicle recharging.
LUMIKER will work on improving measurement precision and reducing the size and cost of its Optical Current Transformers with the development of a miniaturized optical measurement circuit in collaboration with the Advanced Optics Department of the University of Valladolid.
Likewise, it will investigate additive manufacturing technology that improves the production process of its mechanics, in order to maximize production rates by improving the quality of parts with UNDO and POLIFLUOR, companies specialized in Powder and Laser Sintering processes.
Visit us for more information about OPTICHARGER during April 27 and 28 at FICOBA, San Sebastián.
Sign up here and don't miss any info.
We are waiting for you!